Categories
Introduction
Categories allow you to group different wallpapers together. For example if you have a group of wallpapers with flowers, you could make a category "Flowers" and add all those wallpapers in it. You can also disable certain categories if you don't wish to see any wallpapers from those categories. If you wish to use a category only during a certain period of time, you can do so as well. The total number of categories and wallpapers is only limited by the amount of available memory on your system.
At all times there will be a predefined category called "My Wallpapers". This category will contain all the wallpapers you added in all the different categories. Do note that you cannot edit/delete this category, nor can you add images directly to this category.
You can enable/disable each individual category. When a category is enabled it will be used when Wallpaper Cycler cycles to a new wallpaper. If a category is disabled it will not be used and you will never see a wallpaper that is only in that category.
When you delete a category it will be removed from the wallpaper list along with all the wallpapers that were in it. Wallpapers are never physically deleted from your hard disk unless you specifically tell Wallpaper Cycler to do so.
The properties window of a category is divided into the following sections:
On this page you can setup the name and description for the category. This information can be shown in the Caption Bar.
The "Shortcut" option allows you to choose one of ten different shortcuts that you can assign to this category. When the main window of Wallpaper Cycler is active, you can press the chosen shortcut to quickly jump to a category.
This page allows you to link certain tags to the category. Learn more about tags. You can either check or uncheck certain tags in the listbox or you can type some tags in the textbox at the bottom. You can type as many tags as you want by separating them with a "," or ";".
The "Folder Links" option allows you to manage the folder(s) linked to this category. This allows you to use the "Synchronize Folder Link" feature. This feature will scan the linked folders and when new wallpapers are found, they are added to the correct category. Learn more about the Synchronize feature.
Enable the "Limit use of this category to the following time range" option to limit the use of a category. When you enable this, you'll be able to configure the category, so it's only used during certain periods of time.
This window allows you to specify the times and dates between which the category can be used. There are several presets available, such as "Morning", "Night", "Winter", "Spring"... When you select one of these, the times and dates will be set for you. You can still change the times and dates afterwards, if you want to. The time limit feature works per minute, not second. The from-seconds will always be 0 and the to-seconds will always be 59! If you want a certain category to be used for only 1 minute you type in the same time in both "From time" and "To time".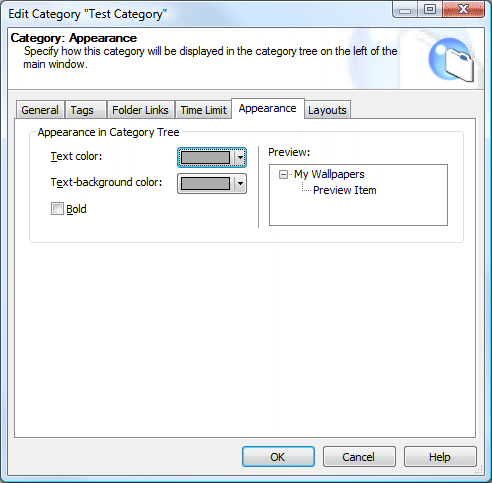 The "Appearance In Category Tree" block allows you to change some appearance settings. Use the "Text color" and "Text-background color" to change the color that will be used to show this category in the category tree on the left of the main window. You can also make the text in the tree for this category bold by enabling the Bold option. On the right is a little preview of your settings.
The "layouts" option allows you to attach a certain layout or layout category to the category. You can use this to make sure that for a specific category a specific layout or layout category is used. Learn more about this.
Back to Top

Copyright © 2009 NuonSoft
All trademarks and trade names are properties of their respective owners.