EXIF Data
Wallpaper Cycler can show the EXIF data associated with an image. EXIF is an abbreviation for Exchangeable Image File Format, and is a standard for storing interchange information in image files. Most digital cameras use this standard to store extra information in each JPEG file, information such as resolution, shutter-time, date, camera model, focal length and lots more. Wallpaper Cycler allows you to quickly view the EXIF data of any wallpaper.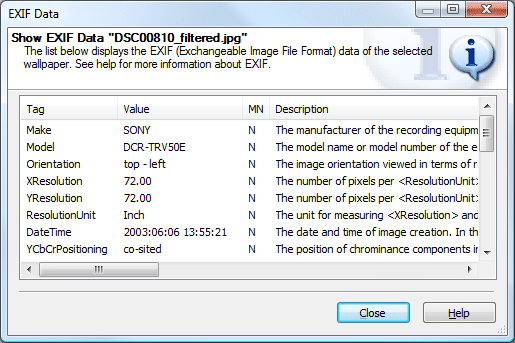 When you right click on an image in Wallpaper Cycler, you can click on "Show EXIF Data..." which will bring up the above window. You can also assign a hotkey to show the EXIF data of the current wallpaper on the desktop without opening Wallpaper Cycler. Learn more about configuring hotkeys. The exact information that will be displayed in the list depends on the make and model of the camera used to take the photo. Some camera models include more information than other cameras.
Wallpaper Cycler also supports parsing of MakerNotes in the EXIF data. These are special tags created by some vendors. Currently MakerNotes for Canon, Olympus and Pentax are supported. The column "MN" in the list will tell you whether it's a standard tag (N) or whether it's a MakerNote (Y).
Press CTRL+C to copy the selected EXIF information to the Windows Clipboard.
The EXIF tag called Orientation is used by Wallpaper Cycler to automatically rotate and mirror imported images.
This feature uses the libexif library which can be found at http://sourceforge.net/projects/libexif.
Back to Top

Copyright © 2009 NuonSoft
All trademarks and trade names are properties of their respective owners.