URL Wallpaper
(Not available in the Lite version)
When you add or edit an URL wallpaper, you will get the following window.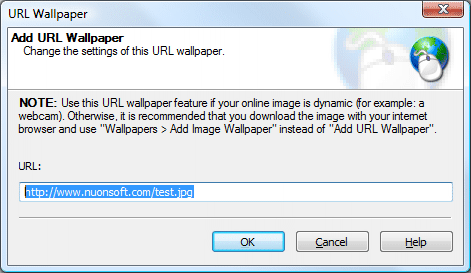 Enter the weblink of the image that you want to use.
NOTE: Use this URL wallpaper feature if your online image is dynamic (for example: a webcam). Otherwise, it is recommended that you download your image once with your internet browser and use "Add Image Wallpaper" instead of "Add URL Wallpaper", because Wallpaper Cycler does not contain a caching mechanism for online images. This is done intentionally because the URL wallpaper feature is normally used with webcams and webcam images should not be cached.
Back to Top

Copyright © 2009 NuonSoft
All trademarks and trade names are properties of their respective owners.