Imagelist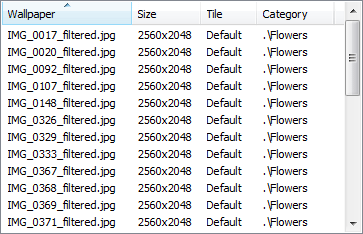 Details view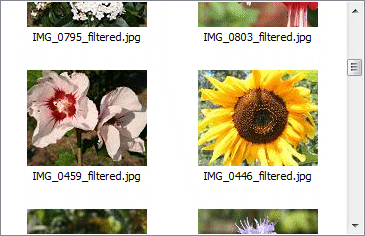 Thumbnail view
The imagelist can be in two modes, either Details or Thumbnails mode. (see above)
By default the Details view shows the following columns:
The first shows the name of the wallpaper.
The second shows the dimensions of the image (width x height) in pixels for the wallpaper.
The third column displays the tiling option for the wallpaper.
The last column shows the category to which the wallpaper belongs.
You can specify which of these columns should be shown by right clicking on the header in the list or by using the "Wallpapers > View > Columns" menu. You can also change the position of a certain column by dragging that column to a new position in the header of the list. To sort a certain column, simply click the header of that column. Clicking a second time will reverse the sort order and clicking a third time will remove sorting.
If you double click on a wallpaper or if you press ENTER when a wallpaper is selected, that image will be set as your current wallpaper on your desktop.
Press the SPACE key on your keyboard to get a fullscreen preview of the selected wallpaper. Learn more about the fullscreen preview.
In the Details view, the current wallpaper on the desktop will be shown in bold in the imagelist.
Non-existing wallpapers are shown in red in the details view. In the thumbnails view they are shown with a red sign + "Not valid" as thumbnail.
Note: this is not implemented for URL wallpapers because checking if an URL wallpaper is still valid would slow Wallpaper Cycler down too much when browsing the categories.
When you right click in the imagelist a menu with options will be shown. This menu is the same as the "Wallpapers" menu in the main window.
Back to Top

Copyright © 2009 NuonSoft
All trademarks and trade names are properties of their respective owners.